The Best Cartoon Ever !
"I'm not interested in creating a book that is read once and then placed on the shelf and forgotten. I am very happy when people have worn out my books, or that they're held together by Scotch tape."
Richard McClure Scarry (1919-1994)

Aku rasa kalau Richard Scarry ni hidup lagi, dia mesti bangga gila dengan Ikmal. Hancur punah buku dia dikerjakan si kecik tu. He really enjoys it.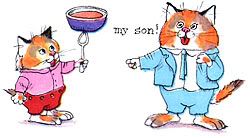 Last month, I bought 6 VCDs from the Richard Scarry cartoon series for Ikmal. Kebetulan Video Ezy Sg Wang ada bagi special offer. 3 VCDs for the price of RM10. Wow, I thought, why not. Ikmal pun dah outgrown his Hot Wheels Highway 35 movie and also Tiff Nedell's The Fast and Furious. He's looking for something else now. So, aku pun belilah 9 CDs. I wondered why takde orang bother pun nak beli VCD tu…

At home, bila aku test the CD's, wow, this is really something! Wayyyyy better than the usual Barney or Power Ranger stuffs I saw some parents bought for their kids. Maybe quite offensive sikit for us Muslim parents memandangkan some of the main characters are of the haram genre (pigs (Pig Will, Pig Won't, Mr Frumble), wild boars (Mr Gronkle) and dogs) My favourite of the lot – The Best Counting Video Ever (this one okay skit coz the main character is Lily the Rabbit). Believe it or not, Ikmal, walaupun belum pandai bercakap, can count 1 to 20 with me (in English la). I mean, takde lah fluent, but he remembers it.



Other than this one, CD-CD lain dalam siri The Busy World of Richard Scarry really caught my heart because it had something that most kid shows and most new shows in general lack: MATURITY. The stories were simple (good manners, going to the doctor, your usual everyday stuff), but the characters are so interesting that it really made up for it. The show was also sweet and child-like (NOT childish, which is a totally different thing). The antagonists were always just mean or rebellious, not full blown evil. They were able to be innocent without being unrealistically perfect. The show was also great because it had SO many characters, not just a handful like most cartoons. The characters more than obviously had their faults, but this way you could really relate to them. They felt REAL.

I wished I have bought more of them…


PS : Thank you, imdb.com for the info.
For more info on Richard Scarry pls visit http://www.rotten.com/library/bio/authors/richard-scarry/
Labels: Ikmal